Swantje Lichtenstein and Jono Podmore: Miss Slipper/Lewes PSY004
ELECTRONIC SOUND – Issue #28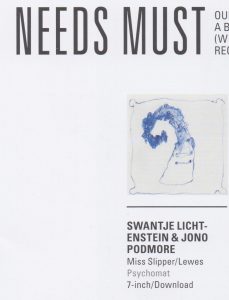 Let's start with seven inches of pure pleasure and the first release for over 20 years from Metamono alchemist/Can collaborator Jono Podmore's Psychomat imprint. Teaming up with Düsseldorf sound writer and performance artist Swantje Lichtenstein, the duo revisit a time when records were beautifully-packaged artefacts to be treasured, They also venture fearlessly back to the birth of electronic music when John Cage and others experimented with the human voice as an instrument as Swantje intones words written by Jono's daughter about her art teacher. In among the bleeps and static textures, the vocal is broken, distended and mangled with the impact of an amplified whisper in the ear. Inspired by the Sussex town, this process continues on "Lewes". Various remixes will be available through Bandcamp. Conceptual, fearless and great fun.
Kris Needs
MOJO May 2017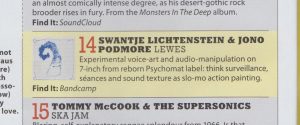 "Experimental voice-art and audio-manipulation on 7-inch from reborn Psychomat label: think surveillance, séances and sound texture as slo-mo action painting…"
1/3/2017 Monolith Cocktail
"…this extemporized art-piece glitches, buzzes and chants its amorphous script until it becomes directionless; untethered on wave after wave of tubular ringing, echoed and chromed effects; disappearing into the torn fabrics of space.
Miss Slipper/Lewes is every bit as conceptual and experimental as you'd expect, and lays down the start of, what I hope, will be a fruitful union of art and sound work…."
Our Daily Bread 238: Jono Podmore & Swantje Lichtenstein 'Miss Slipper/Lewes'
22/2/2017 Freq.org.uk
Swantje Lichtenstein and Jono Podmore – Miss Slipper ​/ ​Lewes