Reason Stendec: Impulsion EP PSY005
ELECTRONIC SOUND – Issue #31
*lead review*
The initial release on Jono 'Kumo' Podmore's recently reactivated Psychomat imprint stood out from the pile as a deliciously enigmatic artefact, a proper seven-inch single in a luxurious sleeve that could make it a valuable antique in years to come. That promise of rampant unpredictability and electronic audacity that coursed through the grooves of 'Miss Slipper' is seismically built on with the enigmatic second release. 'Stendec' is known as the last word broadcast in Morse code from Stardust, the plane that mysteriously disappeared en route to Santiago in 1947. Nobody could work out what the broadcaster was trying to say (it's an anagram of 'descent') and speculation abounded as Stardust became engulfed in UFO theories. This new EP matches that sense of mystery by unexpectedly commencing with a heartfelt, even spiritual vocal that quivers and emotes after an introductory chant as the glistening backdrop swells with easterntinged melodies. The Vocal Mix is an electronic dream take on an acapella version, subjecting Reason Stendec to extreme stretches, bends and vocoder abuse. The AA-side tries gamely to accommodate Jono's 9-minute Kumo Mix, a slab of unashamed banging techno that kicks like a buffalo and belches noxious acid fumes from arcane circuits that swell into an analogue meteor shower. Like 'Miss Slipper' it will also look lovely and be destined for future collectors' status. Treasure them.
Kris Needs
https://electronicsound.co.uk/
Swantje Lichtenstein and Jono Podmore: Miss Slipper/Lewes PSY004
ELECTRONIC SOUND – Issue #28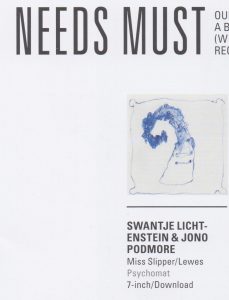 Let's start with seven inches of pure pleasure and the first release for over 20 years from Metamono alchemist/Can collaborator Jono Podmore's Psychomat imprint. Teaming up with Düsseldorf sound writer and performance artist Swantje Lichtenstein, the duo revisit a time when records were beautifully-packaged artefacts to be treasured, They also venture fearlessly back to the birth of electronic music when John Cage and others experimented with the human voice as an instrument as Swantje intones words written by Jono's daughter about her art teacher. In among the bleeps and static textures, the vocal is broken, distended and mangled with the impact of an amplified whisper in the ear. Inspired by the Sussex town, this process continues on "Lewes". Various remixes will be available through Bandcamp. Conceptual, fearless and great fun.
Kris Needs
MOJO May 2017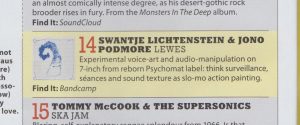 "Experimental voice-art and audio-manipulation on 7-inch from reborn Psychomat label: think surveillance, séances and sound texture as slo-mo action painting…"
1/3/2017 Monolith Cocktail
"…this extemporized art-piece glitches, buzzes and chants its amorphous script until it becomes directionless; untethered on wave after wave of tubular ringing, echoed and chromed effects; disappearing into the torn fabrics of space.
Miss Slipper/Lewes is every bit as conceptual and experimental as you'd expect, and lays down the start of, what I hope, will be a fruitful union of art and sound work…."
Our Daily Bread 238: Jono Podmore & Swantje Lichtenstein 'Miss Slipper/Lewes'
22/2/2017 Freq.org.uk
Swantje Lichtenstein and Jono Podmore – Miss Slipper ​/ ​Lewes