Psychomat Label Profile
Electronic Sound Magazine Issue 32 September 2017
POTTED HISTORY: Jono "Kumo/Metamono" Podmore's Psychomat imprint was initially set up as a sub-label to Mr C's Plink Plonk label. "I was working closely with them at the time, producing techno and house,," says Jono, "but my own material was much more diverse it didn't sit on Plink Plonk, so Psychomat was created for the Kumo sound."
Three 12-inches and the debut 'Kaminari' album appeared in 1997, just before Jono was lured to France to work with Irmin Schmidt and the greater Can family. Like you do.
"As I swanned around great European cities producing operas, films and TV, donning the mantle of Professor der Praxis der Popular Musik, downing litres of Chateauneauf du Pape and breathing life into ancient analogue synthesis with Metamono, Psychomat sat in intellectual cryogenesis awaiting rebirth," explains Jono, helpfully.
That rebirth took place earlier this year, March to be precise, with the release of the 'Miss Slipper'/'Lewes' seven-inch, a collaboration with sound writer Swantje Lichtenstein, and continues with a new EP, 'Impulsion' featuring Reason Stendec
MISSION STATEMENT: "Whenever people hear of a Psychomat release there must be a sense that it could be like nothing they've ever heard or will be something that will make them think differently of what they are familiar with," says Jono. "The aim is to extend the palette of commercial electronic music with the techniques of sound art, sound writing, multimedia, narrative, extended rhythmic range and non-western musical forms, while vigilantly maintaining the highest quality both technically and intellectually. No baggy mixes, no tokenism – the real shit every time."
KEY ARTISTS & RELEASES: Every release and collaboration so far has been touched by magic Podmore fingers. There are also a raft of noatable remixes from the likes of Mr C, Technical Itch, Inky Blackness and more.
"There is a family of artists I work with whose names will forever crop up in the long game that is Psychomat," says Jono. "Have a look at the 'Miss Slipper/Lewes' remixes on bandcamp and you'll get an idea of our meta-roster."
FUTURE PLANS: "There is a new Kumo EP brewing, perhaps even before the end of the year, as well as the prospect of an album," says Jono temptingly. "The long-term plan is to release a huge project of films made to music, which, with the help of some mighty film makers, has been slowly coalescing for a decade or so. There's enough in the bag already to keep that going for a few years."
SHARE SOME GOOD ADVICE? "You don't need a manager, you need a lawyer and an excellent mastering engineer."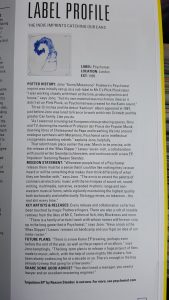 Reason Stendec: Impulsion EP PSY005
MONOLITH COCKTAIL: 28th July 2017
"…Wingman to Can's Irmin Schmidt and the late Jaki Liebezeit, on both a myriad of band legacy projects and various collaborations over the years; solo electronic music composer, and professor to boot; and in the last few years, part of the analogue manifesto enthused trio, Metamono; Jono Podmore has just recently, in the last two months, after a twenty year hiatus, re-launched his 90s Psychomat record label. The aim being to release, in both physical and digital formats, a cerebral experimental run of electronic music 7"s.
Featured on the Monolith Cocktail in June the inaugural extemporized Podmore & Swantje Lichtenstein partnership of serialism amorphous avant-garde backing and exploratory spoken word, Miss Slipper/Lewes, and subsequent series of remixes that followed, laid down the foundations and signature ascetics of the label. Record number two, Reason Stendec's Impulsion EP, congruously keeps up the momentum: just as shrouded in mystery; every bit as challenging, but this time around for more melodic and flowing, and on Podmore's (under his Kumo persona) remix treatment transforms the original material into a bubbling Roland TRs acid techno (reminiscent of Waveform Transmission era Jeff Mills and Derrick Carter) thumper.
An interesting story lies behind that Reason Stendec moniker, which helps to reinforce a sense of mystique. "Stendec" was the last, and as it turned out confounding, word of a Morse code message sent by the crew of the doomed Lancastrian flight between Buenos Aires and Santiago on August 2nd 1947. Turning into a conspirator dream factory of ever outlandish, convoluted theories, including the obligatory alien abduction angle, the Stendec saga had to wait 51 years to be finally laid to rest. It certainly had all the right components for a conspiracy or unworldly mystery, disappearing completely as it did, with no signs of wreckage, no bodies and the most cryptic of messages left to unscramble. But as it turned out the plane crashed, the impact as it hit one the looming mountain ranges triggered an avalanche that buried and entombed the plane and passengers for decades in an area known as the Tupungato glacier. As it thawed over those years, the plane was exposed and finally discovered by mountain climbers.
With this in mind, Reason Stendec cast a spell of otherworldliness; wafting along on a ghostly visage of Pan-European and Arabian sounding influences: like a breeze over an imaginary sand dune landscape, heightened by knife-sharpening percussion.
Like Grace Jones' Parisian tango en vogue dalliances and contralto husky romantic burr crossed with a restrained Diamanda Galas, the vocals on this track follow the sonic contours; switching from an opening chant to English, French and German. A Vocal Mix version of the same track manipulates, pitch-shifts, bit-crushes, and refashions the voice into various forms: ominous and cybernetic, ritualistic and floating; one minute quivering towards the operatic, the next, in an incantation style.
A languid, lingering and sophisticated turn, the Impulsion EP is another electronica adventure and move in the right direction; both befitting the Psychomat label's raison d'être yet cerebrally drifting off into more melodic, flowing directions."
Dominic Valvona
Tickling Our Fancy 052: John Sinclair, CHUCK, Room Of Wires…
FREQ: 25 July 2017
Jono Podmore (AKA Kumo, of Cyclopean and Metamono) provides the music backing up Reason Stendec's sonorous multilingual vocals on the Impulsion EP. Intriguingly, "Stendec" was mysterious final Morse code transmission from a flight that crashed en route to Santiago in Chile in 1947 (the year that Roswell broke unto the world a morass of extra-terrestrial autopsies, abductions and a whole legion of little grey people), an accident that thus happened in just the right era to be sucked into the ever-resurgent mythos of UFOlogy.
The main mix of "Impulsion" is 
an effervescent desert storm, cloaked in sharpening steel
, a rolling hump-backed groove and the sort of percussive exoticism that's almost guaranteed to set a dancefloor swaying. Stendec's very earthly voice has a powerful tone, switching languages from one phrase to the next with a deft assurance that speaks volumes for multicultural cross-pollination, just as Podmore's grooves bring in influences from far and wide. Harking back to his 
latest collaborative 7″ single
 on 
Psychomat
, the vocal mix that Podmore conjures of "Impulsion" is an esoteric, vocoder-led drone through the undergrowth, simmering with latent urgency, Stendec's words smeared into novel textures with all the hallucinatory disturbance of a suitably 
Burroughs
ian cut-up fever dream.
Given that this is a proper 12″ vinyl single, the double-A side traditionally has to have a pumping beat-heavy mix, so naturally Kumo delivers one in fine, throbbing style. Where the original version was sinuous, so this is techno all the way and no less satisfying for that, as the hi-hat trills, echoed handclaps, stretched and fragmented vox keep reaching for the stars as those knives sweep mysteriously under the main rhythm, all with a slightly malevolent intensity. Podmore ensures that things 
ripple and whoop until it's almost possible to taste the smoke machine emissions
 and perceive the onrushing strobe lights, the track sweeping all before it on a non-stop ride to the outer limits.
-Linus Tissio-
ELECTRONIC SOUND – Issue #31
*lead review*
The initial release on Jono 'Kumo' Podmore's recently reactivated Psychomat imprint stood out from the pile as a deliciously enigmatic artefact, a proper seven-inch single in a luxurious sleeve that could make it a valuable antique in years to come. That promise of rampant unpredictability and electronic audacity that coursed through the grooves of 'Miss Slipper' is seismically built on with the enigmatic second release. 'Stendec' is known as the last word broadcast in Morse code from Stardust, the plane that mysteriously disappeared en route to Santiago in 1947. Nobody could work out what the broadcaster was trying to say (it's an anagram of 'descent') and speculation abounded as Stardust became engulfed in UFO theories. This new EP matches that sense of mystery by unexpectedly commencing with a heartfelt, even spiritual vocal that quivers and emotes after an introductory chant as the glistening backdrop swells with easterntinged melodies. The Vocal Mix is an electronic dream take on an acapella version, subjecting Reason Stendec to extreme stretches, bends and vocoder abuse. The AA-side tries gamely to accommodate Jono's 9-minute Kumo Mix, a slab of unashamed banging techno that kicks like a buffalo and belches noxious acid fumes from arcane circuits that swell into an analogue meteor shower. Like 'Miss Slipper' it will also look lovely and be destined for future collectors' status. Treasure them.
Kris Needs
https://electronicsound.co.uk/
Swantje Lichtenstein and Jono Podmore: Miss Slipper/Lewes PSY004
ELECTRONIC SOUND – Issue #28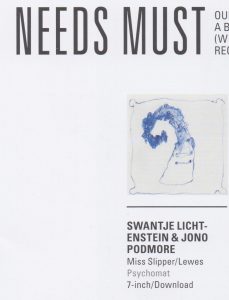 Let's start with seven inches of pure pleasure and the first release for over 20 years from Metamono alchemist/Can collaborator Jono Podmore's Psychomat imprint. Teaming up with Düsseldorf sound writer and performance artist Swantje Lichtenstein, the duo revisit a time when records were beautifully-packaged artefacts to be treasured, They also venture fearlessly back to the birth of electronic music when John Cage and others experimented with the human voice as an instrument as Swantje intones words written by Jono's daughter about her art teacher. In among the bleeps and static textures, the vocal is broken, distended and mangled with the impact of an amplified whisper in the ear. Inspired by the Sussex town, this process continues on "Lewes". Various remixes will be available through Bandcamp. Conceptual, fearless and great fun.
Kris Needs
MOJO May 2017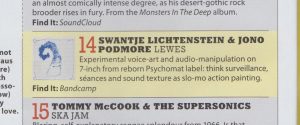 "Experimental voice-art and audio-manipulation on 7-inch from reborn Psychomat label: think surveillance, séances and sound texture as slo-mo action painting…"
1/3/2017 Monolith Cocktail
"…this extemporized art-piece glitches, buzzes and chants its amorphous script until it becomes directionless; untethered on wave after wave of tubular ringing, echoed and chromed effects; disappearing into the torn fabrics of space.
Miss Slipper/Lewes is every bit as conceptual and experimental as you'd expect, and lays down the start of, what I hope, will be a fruitful union of art and sound work…."
Our Daily Bread 238: Jono Podmore & Swantje Lichtenstein 'Miss Slipper/Lewes'
22/2/2017 Freq.org.uk
Swantje Lichtenstein and Jono Podmore – Miss Slipper ​/ ​Lewes